Low Vision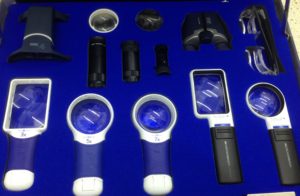 Low vision simply means not being able to see as well as most other people even when you're wearing glasses or contact lenses.
If you already have a vision impairment or low vision, or are registered as either sight impaired or severely sight impaired, our optometrist Laura is a specially trained and accredited Low vision practitioner who can help you make the best use of the sight you have.
What should I expect?
Once you have contacted us on 01792 930665 we will offer you an appointment for a FREE low vision assessment. This is different to an eye examination. At your low vision assessment we will discuss your eyesight condition and the difficulties this may present in your day to day life.  We will talk to you about what you would most like help with, such as reading cooking instructions, paying bills, watching television, dealing with medicines or tablets, completing school work or even working on hobbies.  You can try out a number of different low vision aids such as handheld or stand magnifiers, task lights, electronic magnifiers, sunshields that go over your glasses, reading stands and more.
You can then decide which low vision aids may best help you and how to use them to best effect.  These will then be ordered FREE of charge for you to take home on loan for as long as you may need them.
Further referrals
We can also offer specialist advice about your particular eye condition, as well as being able to give practical advice about how to best manage with home lighting and seating etc.  We can put you in touch with local voluntary support groups or clubs, or organise referrals for extra help from social services or education providers according to your needs. Referrals to your GP or to Ophthalmology can also be made if necessary.