Low Vision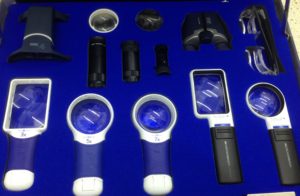 Low vision is the term used for vision loss which is not correctable with glasses or contact lenses.
If you already have a vision impairment or low vision, or are registered as either sight impaired or severely sight impaired, our optometrist Laura is a specially trained and accredited Low vision practitioner who can help you make the best use of the sight you have.
What should I expect?
Once you have contacted us on 01792 930665 we will offer you an appointment for a FREE low vision assessment. This is different to an eye examination. At your low vision assessment we will discuss your eyesight condition and the difficulties this may present in your day to day life.  We will talk to you about what you would most like help with, such as reading cooking instructions, paying bills, watching television, dealing with medicines or tablets, completing school work or even working on hobbies.  You can try out a number of different low vision aids such as handheld or stand magnifiers, task lights, electronic magnifiers, sunshields that go over your glasses, reading stands and more.
You can then decide which low vision aids may best help you and how to use them to best effect.  These will then be ordered FREE of charge for you to take home on loan for as long as you may need them.
Further referrals
We can also offer specialist advice about your particular eye condition, as well as being able to give practical advice about how to best manage with home lighting and seating etc.  We can put you in touch with local voluntary support groups or clubs, or organise referrals for extra help from the social services sensory team or education providers according to your needs. Referrals to your GP or to Ophthalmology can also be made if necessary.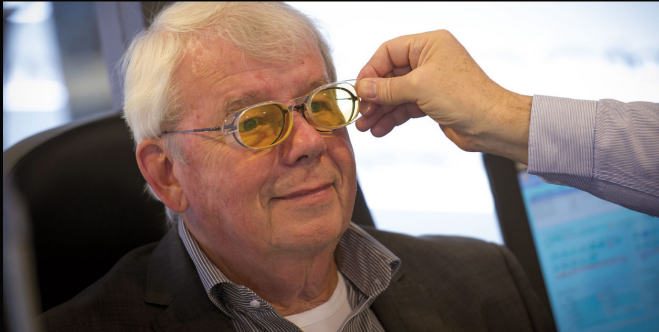 E-SCOOP
E-Scoop lenses are revolutionary lenses for people living with sight loss, they are lenses that can be worn as a clip on over your existing spectacles or can be made as spectacles with your prescription. They can be particularly useful for people with macula degeneration (wet or dry), diabetic maculopathy, or glaucoma.
The lenses help to improve vison in a few different ways
They use prism to redirect the light at a different angle to part of the retina that is less affected by sight loss
They are curved to provide more magnification for distance (up to 7% magnification)
They offer improved contrast with a medical filter to block UV and blue light
The anti-reflection coating reduces glare by reducing reflections
They don't work for everyone but for some they can make a significant improvement and we offer a free trial at Gower Opticians in a relaxed environment so you can decide if they are right for you. If you would like to try them so please call us if you or someone you know would like to try them.